"I applauded the fans after the game and then I went into my office, I just sat down and took a big sigh, a big breath."
A number of fans calling for you to be fired in pure, unadulterated joy over the course of 12 minutes. Who would be a football manager?
It's no secret that Ian Baraclough and Northern Ireland have had a difficult few months and a disrupted build-up to Saturday's game against Kosovo.
A few boos at the end of a goalless first half did little to ease the mounting pressure and things went from bad to worse when Vedat Muriqi scored and it looked like Northern Ireland's much-talked about 14-game winless run in the Nations League would continue.
By the 79th minute small sections of Windsor Park were chanting "we want Bara out". In stark contrast, three minutes later the famous roar rang out over south Belfast after Gavin White equalized.
Then in injury time the pitch erupted when Josh Magennis headed a header into the top corner, sparking wild celebrations.
"It's part of the game. I just tried to shut it out," Baraclough said of those calling for his sacking.
"I don't think it helps because it can affect the players and that's something that makes me sad.
"I understand we have to win football games, but I'm building and developing a team and that takes time. Of course, you have to win games along the way, and we did.
"I hope the fans can see what we're trying to do and show a bit of patience because I think when we're at our best we're a match for anyone."
A positive end to a difficult week
While Baraclough has been criticized for his tactical approach in the past, it was his changes that made the difference on Saturday.
Shayne Lavery and Whyte were introduced in the 76th minute, and the pair linked up for the equaliser, Lavery battling inside the area and setting up Whyte, who couldn't miss from close range.
And it was Cardiff winger White who went from scorer to player when his cross was met by Magennis, who headed in a memorable winner.
"Obviously we made changes that we thought would benefit the game and they came out," Baraclough added.
"It's a credit to the guys who have continued to make an impact.
"The subs can change the game, but the starting lineup sets the platform for them. To come back and get the winner is what we deserved."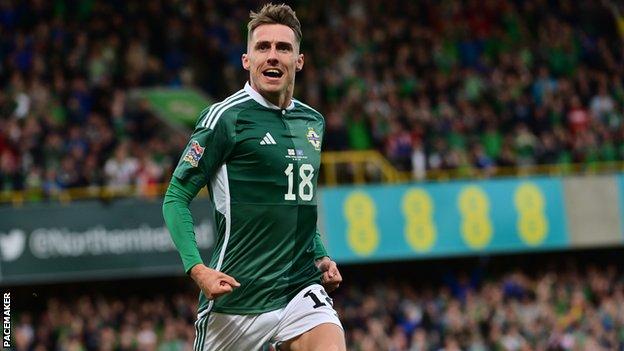 It has been a turbulent week for Northern Ireland after the withdrawals of Kyle Lafferty, the day before the match, and Conor McMenamin shortly before the start.
Baraclough admitted Lafferty's withdrawal on Friday was a distraction but his side would pull through, yet the news about McMenamin, as fans poured into Windsor Park, was another blow when full focus was needed.
"I was trying to focus on a football game and that's what we did," he said.
"It was tough for the boys because if you lose two members of the team you know they're closing in and they don't like to see that happen to anybody. He could have played an important role, but they rallied and got a result.
"This was an example of a team that is close. They are a tight-knit team that enjoys playing for the fans. They need that support from the fans."
We must support the victory
The win eases the immediate pressure on Baraclough, but attention will now turn to Tuesday's final Nations League game in Greece.
Despite needing three points, Cyprus' surprise win over the Greeks means Northern Ireland will need to match or better the Cypriots' result against Kosovo to avoid slipping into the relegation play-offs with both sides having five points to advance to the decider. game.
A positive result in Athens will give Northern Ireland a solid platform to build on, however, the prospect of finishing in the bottom tier of the Nations League will once again raise questions.
"I actually mentioned that the previous two windows were positive and optimistic and that June was not a positive four games for us," Baraclough added.
"If we manage to get a result against Greece on Tuesday, then it will be three positive windows out of four.
"Then we can look back on June and say there was something sluggish about us.
"We have to take care of things on Tuesday and hopefully we can play with freedom from the first minute, instead of it being a slow, nervous pace.
"We're going to enjoy this win and move on and prepare for Tuesday."